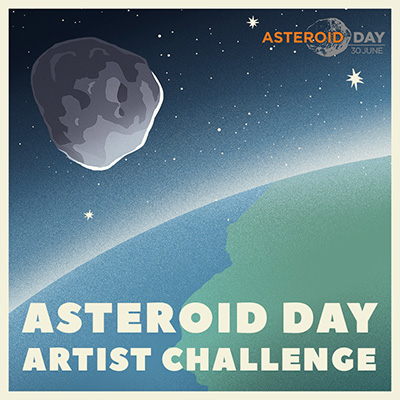 SAN FRANCISCO (31 May 2019) — Asteroid Day, the official United Nations' day of global awareness and education about asteroids, is partnering with Redbubble, the largest global marketplace for independent artists, to inspire the world about asteroids.
Earlier in the month, Redbubble announced the start of a worldwide design contest, calling on their community of 845,000 artists and other artists around the world to create asteroid-related art. Asteroid Day signatories and astronauts Ed Lu, Nicole Stott, Tom Jones, Chris Hadfield, and Leland Melvin will follow the contest–which ends June 15–and choose three winners, revealing them to the world on June 30th.
Winners of the contest will receive public recognition from the Asteroid Day signatories; the first prize winner will also receive a $500 cash prize.
All art should be submitted on www.redbubble.com and on Instagram, Facebook, and/or Twitter with the hashtag #asteroiddayart.
Throughout the contest duration, non-artists have an opportunity to participate as well via weekly trivia challenges on social media that aim to raise awareness around the importance of Asteroid Day. Each week, a winner will be picked at-random from all trivia participants, and will receive a $100 voucher to Redbubble.
In addition to producing the artist contest, Redbubble is the official merchandise partner for Asteroid Day, providing a way for organizers and partners everywhere to commemorate the 5th annual celebration of Asteroid Day with unified products.
Redbubble is a marketplace that gives independent artists a meaningful new way to sell their work. Artists upload designs, regional fulfillers print it on more than 60 high-quality products, and someone gets the awesomely unique thing they wanted. Over 845,000 artists from 190 countries have made more than 100 million dollars selling their designs through Redbubble. Now these artists, along with many more around the world, will be using their creativity to support Asteroid Day through the Asteroid Day Challenge.
Official Asteroid Day Merch can be viewed here: https://www.redbubble.com/people/AsteroidDay/shop
Asteroid Day Challenge Website: https://blog.redbubble.com/2019/05/asteroid-day-artist-challenge/
Asteroid Day art submissions on FB/IG/TW should be labeled #asteroiddayart
Media Contact: Tina Garcia, tina.garcia@redbubble.com